What does Hamilton want to be when it grows up?
Original version of this story published on Raise the Hammer July 22, 2011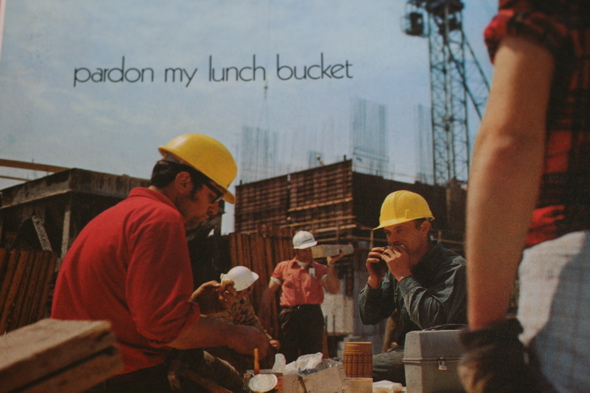 My grandfather is 96 years young. No one has seen this city evolve like these long-standing members of our community. He was eight when his family immigrated to Canada from Denmark in 1923, but outside of a tour of duty in Europe during World War II, Hamilton is the only home he has otherwise known.
Both my parents were born, raised, and still reside in Hamilton. Although they are 30+ years younger than my grandfather, they have seen this city change quite drastically over their lifetime, including the fall of our once vibrant downtown core.
To be reminded of the way in which our downtown once pulsated with lights and people, electric cars and automobiles cruising down King Street, one need only flip through the pages of a book published for the 125th anniversary of Hamilton, entitled Pardon My Lunch Bucket.
Although our urban centre is changing for the better (and I see that change first hand almost daily as someone who is in the core in the morning and in the evening as I commute in and out of Hamilton), there is still much to do to bring that area of our city back to a place our fathers once enjoyed hanging out in when they were younger.
It's not an easy task, trying to alter the image so many carry of a core they haven't stepped foot amongst in a very long time, but countless members of this community are doing their part daily to promote the ever evolving heart of our city. It's one thing for a city to sell itself, but its inspiring living in a community being sold every single day by citizens from all walks of life.
When we were younger, we stated how we would never say the things our parents did like 'when I was your age'. Well I am 38 years old now and 'when I was a kid', I remember playing kissing tag in the high-grassed fields that once quietly grew where Limeridge Mall now stands. All of that land west of Upper Sherman where I grew up, and north of Berko, was mostly undeveloped at that time.
My grandfather talks of picking cherries on the farm that once occupied the land underneath the high rise he has resided in since it was built over 30 years ago. My parents and grandparents talk of shops and hotels (we call them bars now), they used to frequent as we travel through town.
I now have so many of my own 'when I was your age' stories to tell my children; some as recent as the demise of the long neglected Centre Mall which was one of the first covered shopping malls in all of North America.
Things are changing rapidly in Hamilton in general. Faster than we can fight to preserve what we love and don't want to lose within our city. The future of Hamilton in some ways, is being planned for us by big business and out of town investors. Where some see dollar signs, we see a city wrapped with trees, draped with waterfalls, surrounded by multiple bodies of water, and blanketed by vast farmland, forests and green space.
If there is a dollar to be made, none of these features listed above that so many of us find to be endearing qualities of our city, will halt development if nobody attempts to stand in their way or better yet, if we can't encourage investors as a city, why they should build within the city boundaries, instead of expanding into areas of our municipal boundaries that we should be looking to protect and set urban boundaries for.
Hamilton is a city without a true overall business plan (that I have seen anyway I should clarify), or as one of my former instructors once asked of our class, Hamilton hasn't answered the question as to 'what it wants to be when it grows up'. Our city needs to better visualize it's long term goals because if we don't do this soon, our future will continue to be designed for us by those willing to see our city become an extension of the GTA with sprawl stretching to Caledonia, Smithville, Grimsby and Guelph, with very little green in between; all in the name of progress.
I have been sold on so many levels, as to the benefits of Light Rail for some time, especially with regards to how it might figure into the planning of the proposed stadium district, but it wasn't until a recent article on Raise the Hammer, that I truly realized how it could greatly impact two projects dear to my heart. One being the aforementioned stadium district and two, that going forward with LRT might encourage the powers to be in this city, to look at defining some hard-set boundaries for urban sprawl.
"Portland had a much lower population density when it decided, in the 1970s, to impose a firm urban boundary and to use federal highway funding to build its first LRT line.

The high density that (Mayor Bob) Bratina says is the reason for Portland's LRT success is actually a product of that city's success at directing traffic into high quality urban intensification instead of endless sprawl." Ryan McGreal – Raise the Hammer
LRT is something many of our children are going to want to see and if we act now, it will be a well developed system by the time my own girls are young teenagers wanting to explore the whole of Hamilton's surface. Will they travel within on Light Rail, or leave on paths drawn by GO or paved by endless highways leading them out of dodge?
I believe many parents dream of their children living within close proximity when they grow up and of being able to play an active part in their grandchildren's lives but for this to happen, there is much to do to prepare their city as a place that they will also want to raise a child themselves; economically, environmentally, and overall liveability.
I don't want Hamilton to be like every other largely populated metropolitan centre. I want it to be Hamilton. A diverse city of many communities surrounded by and filled with, substantial plots of green space and farmland. Once that green is gone, we can't get it back.
LRT would surely fuel the fires of rapid change in this city, but it would be a welcome change. We are losing heritage buildings, schools, valuable land and valleys, faster than we can vocalize our attachment to these features that make up what we love about our city, like being able to drive 20 minutes from our cities core and suddenly finding yourself driving quiet country roads with the smells of cows and the sounds of natures breathing in through your open car window.
I believe it's what Light Rail could help us save and what it could help us revitalize initially amongst the downtown wards of our city, that truly sell it as the next step Hamilton needs to take.
If LRT can be a catalyst for growth among areas such as the stadium district, if it can promote stronger public transit ridership, if it can encourage us to build within our city limits and define our urban boundaries, than I can think of no other city or regional initiatives that can have a greater immediate impact on our city, than moving forward with the implementation of Light Rail Transit.
We can't shy away from moving forward. Believe me when I say that I have spent way too much time in my life fearing the unknown images of change. I have allowed that fear within to paint its own portrait of how change might look, instead of embracing the future and allowing it to formulate its own image of how change could open up doors that I couldn't have imagined would ever be possible.
I think we should take a step back as a city. Work together as a community; politicians, local businesses, school boards, post secondary education institutions, and citizens alike, to create a business model for all four corners of this city. I will challenge however, that Light Rail Transit is not something to step back from. It's already something that many in Hamilton already see as something that will stand front and centre in that final plan. LRT is a very solid platform to build our business plan off of and something we should move forward with, while we ponder the broader picture of Hamilton's future.
What does Hamilton want to be when it grows up? How will it show leadership? Why will it be the Best Place (for our grandchildren) to Raise a Child?
Larry Pattison is a local blogger, life-long resident of Hamilton, and father to two amazing girls. His blogging projects include Save Ivor Wynne Stadium, A Beautiful Night for Football, Hockey Night in Hamilton, and his main blog, Shaking The Tree.
How the media is selling the benefits of Light Rail in Hamilton:
There doesn't seem to be a specific page for LRT related articles on TheSpec.com like there is on RTH, but the link above points you to the search tab which lists all articles and opnion pieces revolving around LRT.